Welcome To Our Current & Future Radio Affiliates!
The Car Doctor™ show is produced LIVE on Saturdays, 2 p.m. – 4 p.m. ET. It is available via the Westwood One (formerly Cumulus) XDS receiver. Our XDS program title is:  TMN – Car Doctor Show
Since the XDS receiver can "store and forward" programming, you can air Ron Ananian: The Car Doctor™ whenever it makes sense in your programming schedule. Your listeners can call in at any time, as The Car Doctor™ maintains a 24/7 listener call-in number. For listeners who call in after the live show, we'll often make arrangements to call them back the following week when the show is being produced live, to get them on the air with Ron.
The Car Doctor™ can be fully automated, as netcue relays are provided for rejoin liners, and to signal the start of a network break (to allow your station to send your internet stream to break) and for your local commercial breaks.
As an alternate delivery method, FTP access to The Car Doctor™ show files, can be provided for those stations that do not have a satellite dish and Westwood One XDS receiver.
The Car Doctor™ is available on a market exclusive basis… so if your competitor signs up before you do… then you'll have to settle for a less entertaining car show. So don't wait!
For information on how to become a The Car Doctor™ radio affiliate, please visit Talk Media Network's website, or call TMN at: (616) 884-8616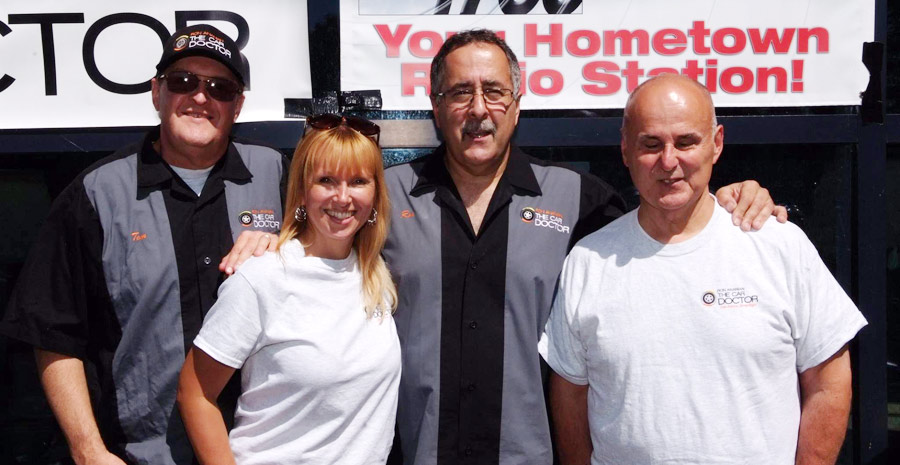 The local affiliate crew from WRCR AM 1700. From left: Tom Ray, Kerry Potter-Kotecki, Ron Ananian and Steve Possell.
Ask us how we provide NATIONAL support for your LOCAL Sales efforts!
$
0
B
Annual Maintenance & Repairs
Interested in becoming part of The Car Doctor product family?